Many commercial properties, and some residential, in Calgary have a flat roof system. As with any roofing system, it's important to use the best materials available. An SBS Modified Bitumen Membrane system is one option available. Learn more below
Trusted Accreditations: Your Assurance of a Quality Calgary Roofing Company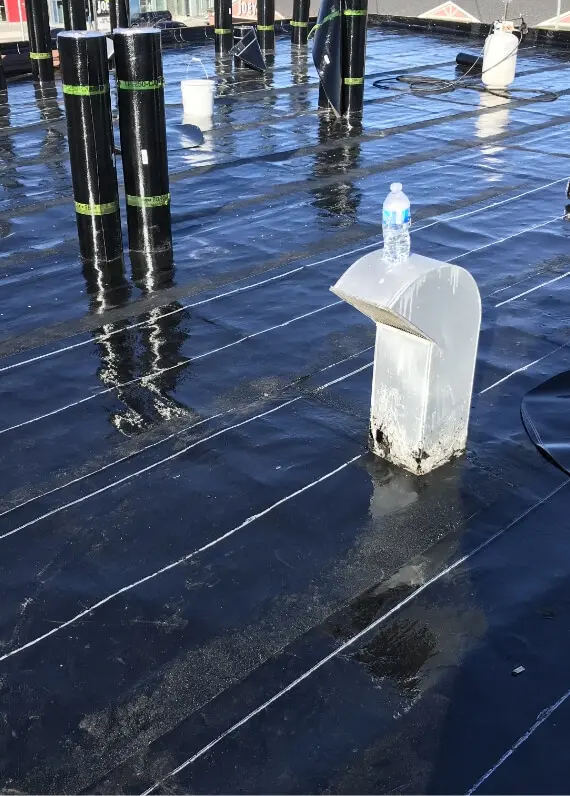 Many commercial properties, and some residential, in Calgary have a flat roof system. As with any roofing system, it's important to use the best materials available. An SBS Modified Bitumen Membrane system is one option available.
SBS is an elastomeric additive that's added to asphalt. When it cools, its property make up is similar to that of rubber. By using an SBS modified flat roofing system, your commercial or residential roofing project will have superior waterproofing, UV protection and long-term durability. SBS flat roofs are easy to maintain and with regular maintenance you can expect a lifespan of 20-30 years.
Some of the other advantages to using a product like an SBS modified bitumen membrane include its resistance to most extreme weather conditions, making it perfect for our Calgary climate. It's also compatible with all types of roofing applications and comes in a variety of colours. The installation is simple, and it provides security to the property owner knowing that it's resistance to puncturing and other damage adds to its life expectancy.
At National Star we believe in using the best materials for the job. Which is why we offer Euroshield rubber roofing systems for any project in Calgary. Euroshield is made from a durable, synthetic rubber roofing membrane, EPDM (ethylene propylene diene terpolymer). It's a versatile material that can be used in a number of applications and can withstand the temperature fluctuations we often see here in Southern Alberta.
A benefit to using an EPDM roofing system is its affordability. In addition to being relatively inexpensive, EPDM is also low maintenance. The waterproofing membranes remain flexible and have an estimated life expectancy of 50 years. It's still important, however, to have an annual inspection done to find any problems before they become a major issue.
EPDM is also an environmentally friendly solution. Rubber roofs are made up nearly 95% of recycled materials. Best of all, when it is time to replace it, it can be melted down and recycled into a new product.