When we think about roofing materials, asphalt shingles or clay tiles may come to mind. Choosing a high-quality material that best suits your roof is essential when reroofing or doing any repair work. With that said, you must also use the proper roofing nails when repairing your shingles. The nails help keep everything together. It won't matter how great your roof looks if the nails aren't doing their job. This article talks about what roofing nails are and how to choose the right one.
What Are Roofing Nails?
First, we should discuss how roofing nails are different than regular ones. Roofing nails are smaller than the average wood nail. In other words, the shank is shorter, while the head of the nail is wide. These nails help secure roofing felt, roof tiles, shingles, and sheet metal.
Before going out to buy nails, check to see how many you'll need. A typical repair job for an asphalt roof would be a small section that needs replacing. However, if you notice multiple areas of your roof with missing or broken shingles, it may be time for a replacement.
Materials Used
Roofing nails typically come in aluminum, stainless steel, copper, and galvanized steel.
Roofers often use aluminum nails to install shingles. They're easy to purchase and inexpensive. But keep in mind that they are more prone to corrosion.
Stainless steel nails work well for slate, ceramic, or asphalt roofs. They're durable and easy to use but more expensive than aluminum.
For a steel or slate roof, copper nails will do the job. They're naturally rust and corrosion-resistant.
Lastly, galvanized steel nails are composed of a steel base and coated in zinc. Galvanized nails work great for asphalt shingles. They're rust-resistant, easy to use, and highly durable. In addition, compared to other types, they have a lower chance of shrinking or cracking over time. These reasons help make this nail the most popular among roofers.
How To Pick
Now that we've discussed the kind of material that makes roofing nails let's talk about the types. Below, we list the three types of roofing nails that are commonly available.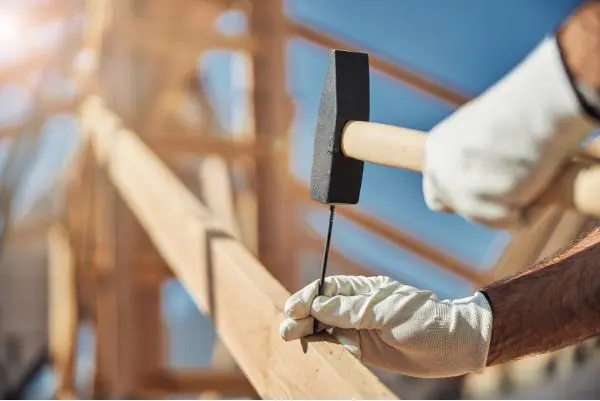 Smooth Shank
A smooth shank nail gets its name from its design. This nail has no rings along the shank and is the most basic type. This nail works well for asphalt shingle repair and replacements. If you're looking for a cost-effective option, this is for you.
Ring Shank
This nail has rings along its shank. The rings help secure the shingle better. In other words, these grooves significantly improve durability. Alberta can get quite windy, especially on days where we see chinooks. Ring shank nails have higher wind resistance compared to smooth shank nails. Therefore, for best results, use ring roofing nails to secure your roof.
Square Cap
As their name suggests, a square cap nail has a square-shaped head. We typically use these nails to fasten underlayment, not shingles.
Roof Repair Tips
When repairing your shingles, there are a few things to keep in mind. First, do not reuse roofing nails. After removing the shingles, discard the nails as well. They're likely worn out and will cause more work in the future should you reuse them.
Do not use screws for shingle installation. Using screws will leave small holes in the shingle. Remember, water only needs a small entryway to cause a lot of damage. Over time, these small holes will get bigger, and water can become trapped underneath, leading to a leaky roof. 
Another thing you should never do is use staples for shingles. They will not secure the shingle properly. Using staples can also lead to costly repair work.
Nail Gun Or Hammer?
Another common question is whether to use a hammer or nail gun. Both will get your repair job done. If speed is what you're looking for, a nail gun will help you get the job done faster. On the other hand, a hammer is less expensive.
However, keep in mind that nail guns require nails made for the tool. Look for coil roofing nails. They come attached so that you can nail down your shingles much faster than a hammer. You can also rent a nail gun at your local hardware store.
Professional Roofing Services
If you feel confident, you can conduct minor roof repairs. Make sure you pick a day with minimal wind and stable weather. However, if you ever feel unsure about repairing your roof, contact a professional roofer. Being on your roof can be dangerous. Having roofing work completed in the fall will give you peace of mind over the winter months — book early for your preferred time and date.