Your Complete Guide To The Best Roofing Shingles For Canada With so many roofing options available, what are the best roofing shingles on the market in Canada? This buyer's guide will let you know.
Best Roofing Shingles In Canada
Whether it's a roof repair or replacement, you want the best bang for your buck. But with so many options out there, which is best?
The following buyer's guide will outline the best roofing shingles for Canada's climate. First, we go over popular types of shingles used in Canada.
Next, we outline what makes a good shingle. Lastly, you'll learn more about how to pick the best type and which brands to look out for.
Well-Known Types Of Roofing Shingles
No two types of shingles are the same. Plenty of choices exist from the blend of materials used to the type of shingle itself.
First, let's go over the two most common types of asphalt shingles. Asphalt shingles come in either a three-tab or an architectural roofing shingle.
Three-Tab Shingle
The most traditional kind is the three-tab shingle(link to Lowes three-tab shingle). This type of shingle lays flat and has three tabs per shingle strip.
Three-tab shingles are the least expensive and typically have a lifespan of up to 25 years.
Best Algae Resistance Protection: Duration Three-Tab Shingles by Owen's Corning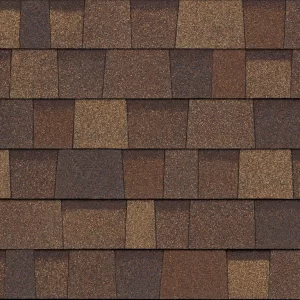 The perfect choice for homeowners seeking bold contrast, deep dimension, and exceptional performance.
These shingles are designed to provide ultimate protection while enhancing their home's curb appeal.
With the TruDefinition® color platform, homeowners will enjoy many popular colours with dramatic colour contrast and dimension. Their patented SureNail® Technology, featuring Triple Layer Protection®, offers superior holding power and outstanding grip, proven through rigorous testing.
Say goodbye to unsightly black streaks caused by algae growth with the StreakGuard® Algae Resistance Protection. Owens Corning has incorporated copper-lined granules into their shingles to prevent algae growth and maintain the beauty of the home's exterior.
Homeowners can rest easy with the Limited Lifetime Warranty, especially when they work with an Owens Corning Roofing Preferred or Platinum Preferred Contractor who can ensure proper installation and warranty coverage.
Don't forget about wind resistance – their shingles are certified to industry standards, providing reliable performance even in the face of strong winds.
Architectural Shingle
Architectural shingles, also known as dimensional, live up to their name.
This one helps give the roof a more 3D look. This one has more styles and colour options, making it increasingly popular. Architectural shingles are slightly thicker, heavier, and more expensive than three-tab shingles.
Because of the added thickness, each shingle provides more roof protection. Therefore, their lifespan typically lasts up to 30 years.
When choosing a new asphalt roof, consider which kind you're looking for. You can base this on the budget and style of roof you're looking for.
Environmentally Friendly: Vista AR Architectural Shingles by Malarkey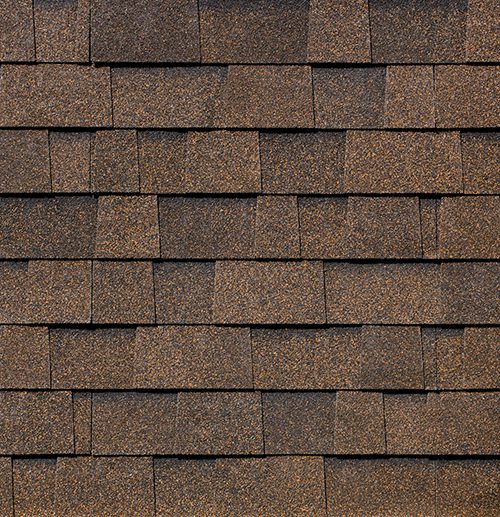 These shingles are engineered to outperform and outlast, thanks to Malarkey's proprietary NEX® Polymer Modified (Rubberized) Asphalt. Added rubber and plastic polymers offer exceptional strength and durability, ensuring long-lasting protection for your home.
Malarkey shingles are also designed with the environment in mind. By incorporating up-cycled tires and plastic bags, they contribute to reducing landfill waste while increasing the shingles' strength and resilience.
Additionally, smog-reducing granules are integrated into the shingles to help clean the air, making your roofing choice environmentally responsible.
When it's time for installation, remember that Vista® AR Architectural Shingles are installed as the fourth component in a complete 5-component roofing system. Following the starter shingles and coming before the hip & ridge shingles, they provide a seamless and durable roof for your home.
Best Roofing Shingles:
That said, asphalt shingles are Canada's most common type of roof. There are several reasons for this.
First, asphalt shingles are affordable. Because of their popularity, the prices are stable and lower than other types.
Asphalt Shingles
With harsh cold winters and hot, dry summers, your roof goes through a lot.
Asphalt shingles are very weather-resistant, which is a must for Alberta. Asphalt shingles can withstand rain, snow, fire, and moderate hail.
They're lightweight, meaning your roof won't undergo added pressure from the material.
Asphalt is one of the best roofing shingles because they're also easy to repair. Because they're so common, it's a quick fix if you ever need to replace a few.
You can either go to your local hardware store and purchase them or have a professional roofer do it for you.
Windsor Scotchgard Asphalt Shingles by Malarkey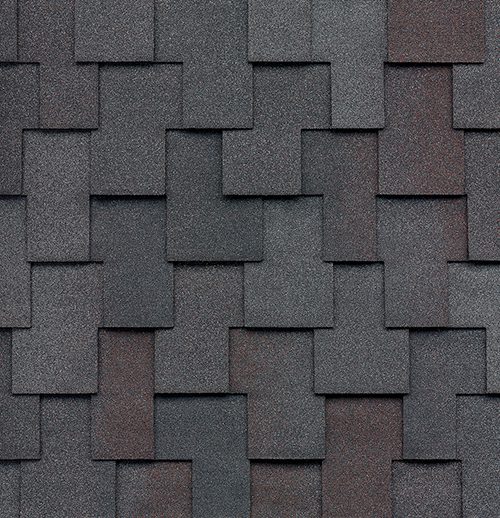 Upgrade your home with Windsor® Scotchgard Designer Shingles.
These shingles offer elegance and durability, designed in a high-dimension style to withstand any weather. With a Class 4 hail impact rating and algae-resistant granules, your roof stays beautiful and protected.
Choose from a variety of stunning colours to match your home's style. Windsor® Scotchgard shingles outperform standard options with extra adhesive bonds, superior rain and wind seals, and increased thickness. They're built to last.
Malarkey prioritizes sustainability by using upcycled tires and plastic bags in their shingles, reducing landfill waste. These shingles also have smog-reducing granules for cleaner air.
Vinyl Shingles on a Budget
Vinyl shingles are cost-effective for homeowners looking for an affordable alternative to asphalt shingles. These shingles can imitate the appearance of cedar shake shingles or half-round shingles, providing a stylish look at a lower price point.
You can find some affordable vinyl shingles at Home Depot!
One of the advantages of vinyl shingles is that they are relatively easy to clean. However, it's important to note that they are more fragile than other shingle types.
In regions where the shingles undergo frequent warming, cooling, or freezing, vinyl shingles may be prone to cracking.
Vinyl shingles are also vulnerable to damage from inclement weather, such as hail, and impacts like fallen tree branches. It's essential to consider these factors when choosing vinyl shingles for your home.
While the colour of vinyl shingles runs throughout the shingle, preventing chipping or flaking, it's worth noting that the colour may fade over time. This fading is more likely to occur in areas exposed to harsh sunlight, which can result in a patchy appearance.
How to Pick the Best Shingles for You:
Now that we've reviewed some of Canada's best roofing shingles let's help you decide.
Re-roof Or Roof Replacement
First, consider whether you're going to have a re-roof or full roof replacement.
A re-roof means adding new shingles on top of the existing ones. This job takes less time and might be an option if your roof has never had a re-roof done before.
A full roof replacement means removing the existing material and starting from scratch.
Budget
Next, let's talk budget. As mentioned above, asphalt is the most cost-effective option.
However, metal roofs can easily outlast asphalt for a higher upfront price. Finance options are available to help you make this decision.
Style
The perfect roof should complement your home to help boost curb appeal. What kind of style are you looking for?
Asphalt shingles come in an array of colours. Metal shingles can also mimic wood or tile. This is one way to give your home a personalized touch and help you stand out in the neighbourhoud.
Warranties
Lastly, check what kind of warranties are offered.
Trusted roofing product companies offer strong warranties to bring you peace of mind. Roofing shingles typically come with a limited lifetime warranty.
Check the fine print to see what covers "limited." Definitions will vary across manufacturers.
An extended manufacturer warranty, on the other hand, offers more coverage. Ask your roofer what kind of warranty would be right for you.
Selecting A Reputable Brand
While choosing a trusted roofing company is important, so is the product. A quality roofer knows which brands work best for Alberta's climate.
Malarkey Roofing Products make some of the best shingles available. They are popular among consumers and contractors, with a wide range of options. In other words, you'll have many color and style options.
Malarkey offers designer shingles, architectural shingles, and even sustainable roofing options for residential roofing. 
Ask The Pros
When in doubt, ask a professional. A great roofer will know exactly what type, style, and brand will work best for you.
Asphalt and metal are the most common and best roofing shingles for Canada's climate. When choosing your roof, consider style, budget, and warranties.
We understand a roof replacement is a big investment. Always choose a reputable roofing company that only uses high-quality roofing material.