Residential & Commercial
Flat Roofing
National Star Roofing has more than 19 plus years of experience in the roofing industry. We provide flat roofing installation, repair, and replacement for apartment condo buildings, office buildings, commercial plazas, warehouse buildings and more.
Trusted Accreditations: Your Assurance of a Quality Calgary Roofing Company
Long-lasting flat roofs
When you're looking to have a new flat roof installed, or have repairs made to your existing residential flat roof in Calgary, National Star has been the team to count on since 2003. Our roofing contractors always use the best materials for the job and take the time to make sure everything is completed to the highest standards.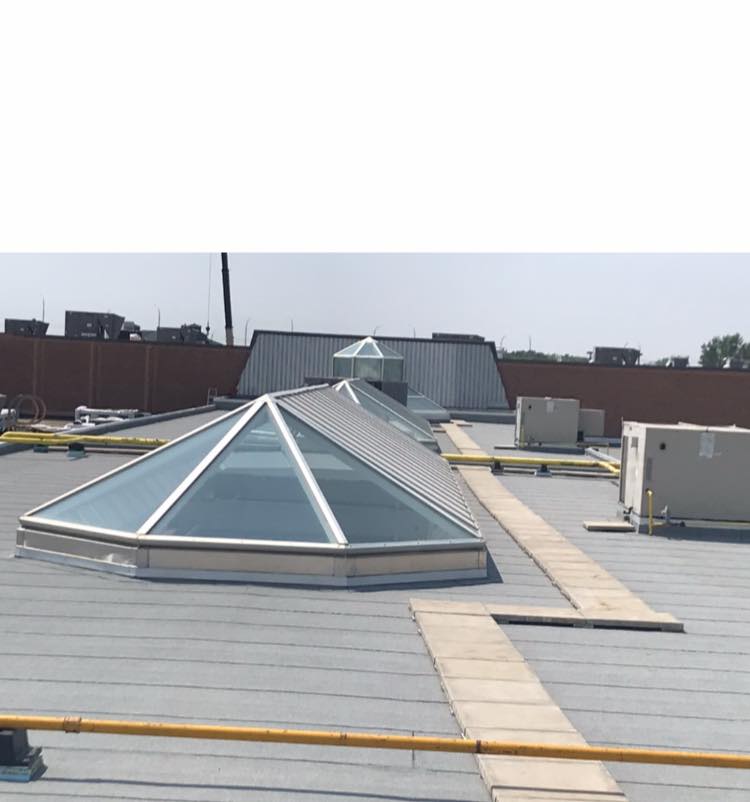 Top Rated Asphalt Roofing in Calgary
Just like any roof, there isn't one system that's the perfect fit for all flat roofs, also known as a low slope roof. EPDM (ethylene propylene diene terpolymer) is a rubber roofing system that is preferred by many Canadian roofing companies for its durability and cost-effectiveness.
EPDM is made of a versatile rubber membrane made to withstand the elements, including hail and other inclement weather we often see in Calgary.
Modern residential flat roof systems typically have a continuous membrane covering, which allows it to better resist standing water. Other options include modified bitumen (asphalt) or built-up roof materials (BUR). Send us a message today to find out more about our flat roofing services.
Top Rated Asphalt Roofing in Calgary
Flat roof repair, replacement, and installation should only be done by a highly experienced roofing contractor. At National Star Roofing, our in-house team of roofing specialists are trained to provide optimal flat roofing services for residential and commercial buildings.
National Star Roofing offers a full range of flat roof repair and installation services within Calgary and the surrounding area. From condo building to large industrial and warehouse buildings. We've done them all. Every flat roof project is unique and requires specific needs, it's up to us to provide a solution that will last for years to come.
We provide a free roofing inspection to all our potential customers. This allows us to carefully inspect any given residential or commercial roof and determine what needs to be repaired or replaced. As part of our inspection, we also evaluate the current condition of the roof.
We provide and explain possible solutions after we've completed our roof inspection. We like to provide our customers with multiple roof repair or replacement options. Furthermore, we also take the time to explain the key differences between different types of roof system solutions.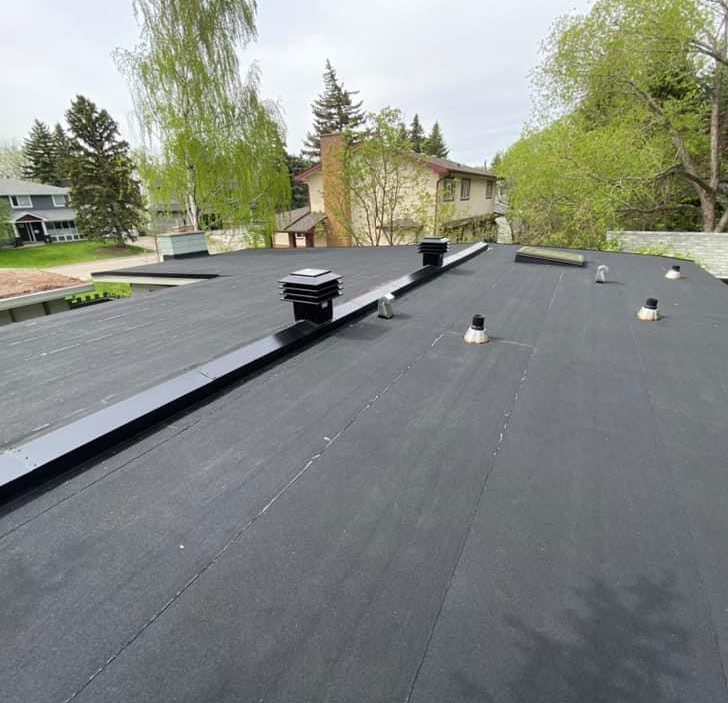 Don't Know What To Start With?
Solutions For All Roofing Services
Types of flat roofs we work with
EPDM Rubber Roofing. EDPM (ethylene propylene diene terpolymer) is a rubber roofing system that is preferred by many Canadian roofing companies for its durability and cost-effectiveness.
TPO Roofing. Also known as thermal plastic olefin. This type of roof is extremely durable and can last for decades if installed correctly. This type of flat roof consists of single-ply roof membranes made from ethylene propylene rubber.
Modified bitumen roof (asphalt). Asphalt based product specifically designed for flat roof application. This type of roof is extremely flexible, durable and performs well in Calgary's weather climate.
Built-up roof materials (BUR). This type of roof system is well known as "tar and gravel" roofs. BUR roofs are manufactured with a combination of reinforced materials and bitumen.
PVC Roof Single-ply Membrane. Another great flat roofing option. PVC roofing systems are known for being eco-friendly and for its moisture resistance.
Email: info@nationalstarroofing.ca
Free Consultation: Quick & Easy
Top Rated Asphalt Roofing in Calgary
First off, we only use the best roofing materials for all our projects. We believe it's important to provide a high-quality service with exceptional customer services. Our workmanship and warranty speaks for itself.
Roof Repair. We provide flat roof repair services to our customers. This includes repairing cracks and opening
Roof Restoration. Similar to roof repair. However, our restoration process includes applying a protective cover.
Flat Roof Overlay. This process involves applying a new rolled roofing membrane. In some cases on top of the existing membrane. However, in most cases, we remove the previous membrane.
Complete Flat Roof Replacement. We also provide complete roof replacement services which involves removing the entire flat roof and re-applying a new roof system.
We provide a detailed roof evaluation once the roof repair or replacement project is complete. Additionally, we provide maintenance and repair options for your flat roof so that your roof will last for years to come.