Commercial Roofing in Calgary
At National Star Roofing, we understand the importance of running your business smoothly, even during roofing repairs or replacements. That's why we go above and beyond to minimize disruption to your clients or staff. Our team of expert roofers in Calgary is dedicated to providing efficient and timely service. We'll work with you every step of the way, answering any questions and explaining the work we're doing to give you peace of mind. With our roofing services, you can focus on running your business while we take care of your roofing needs. Trust us to keep your business running smoothly while we care for your roof!

Trusted Accreditations: Your Assurance of a Quality Calgary Roofing Company
Insured Commercial Roofing: Secure Your Business
With over 15 years of experience in the roofing industry, we offer a wide range of commercial roofing solutions and residential roofing services. We started our business offering residential roofing to Calgarians. We have since established a reputation for delivering the highest quality products, services, and customer satisfaction – commercial and residential!
Our commitment to excellence is reflected in our many accolades, which is why National
Star Roofing Specialists is once more a HomeStars 'Best Of' award winner!
At National Star, we understand the importance of a sturdy and reliable roof. That's why our team of commercial roofing contractors are Haag-certified experts at assessing and addressing any damage and providing the best solutions to your roofing needs. We take satisfaction in our reputation and put time and care into every project, ensuring that our clients are satisfied with the results. Trust National Star to provide you with the best commercial roofing services and peace of mind with our insurance coverage.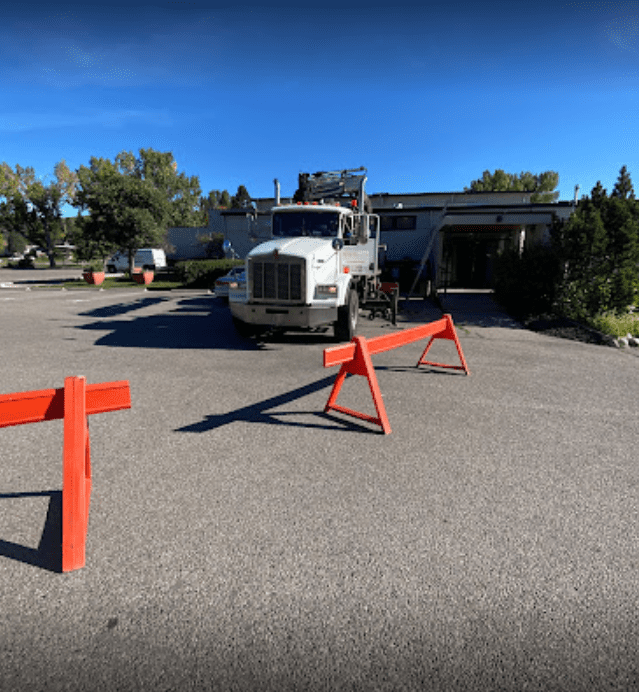 Top Rated Business Roofing in Calgary
When you hire National Star, we want you to feel confident that you're working with the best Calgary roofing company.
Every commercial project is completed following Alberta's safety and building codes. We offer higher-than-average liability insurance that includes hot works (heat or torch applications) of $10 million per occurrence. Additionally, all our roofing contractors are covered by WCB insurance.
Our services include servicing new roofs to check for damage or potential repairs. We also offer re-roofing and repair services on apartment buildings, high-rises, strip malls, large malls, and more. Our contractors can work with existing roofing material, often tar and gravel, SBS membranes, and EPDM membranes.
Top Rated Business Roofing in Calgary
At National Star Roofing, we provide high-quality flat roofing services for commercial and residential properties.
We understand that just like any roof, there isn't a one-size-fits-all. Therefore, we provide various options to suit your specific needs and budget!
EPDM Roofing
One of the systems that we prefer and often recommend is EPDM (ethylene propylene diene terpolymer) roofing. EPDM is a rubber roofing system known for its durability and cost-effectiveness.
It's made of a versatile rubber membrane designed to withstand the elements, including hail and inclement weather, which we often see in Calgary.
EPDM is also an environmentally friendly solution. Rubber roofs are made up of nearly 95% of recycled materials.
Best of all, when it is time to replace it, it can be melted down and recycled into a new product!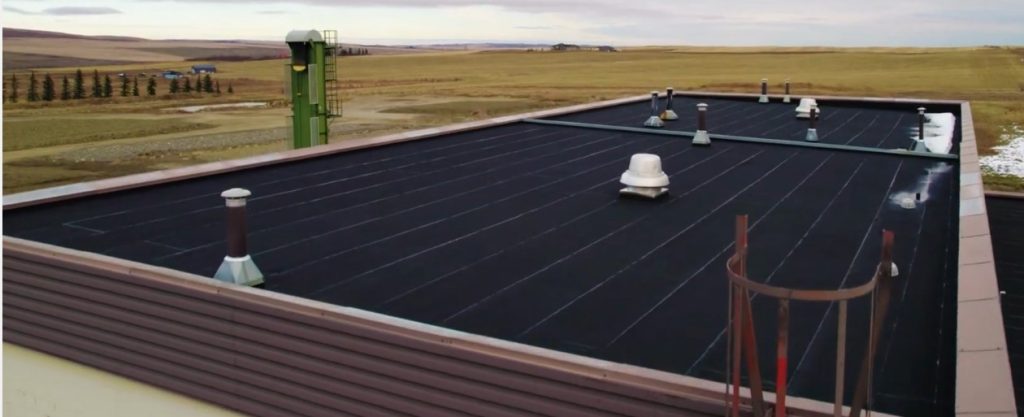 SBS Roofing
Another system we prefer is SBS roofing. An SBS Modified Bitumen Membrane system is a durable and cost-effective option for flat roofing systems on commercial and some residential properties in Calgary.
It is with an elastomeric additive, which gives it properties similar to rubber and provides superior waterproofing, UV protection and long-term durability.
This type of flat roofing system has a lifespan of 20-30 years with regular maintenance. It is also resistant to extreme weather conditions, easy to maintain, compatible with all roofing applications and comes in various colours.
What Kind of Experience to Expect When
Installing a Roof for Your Business