CALGARY ROOFING SERVICES
All Types of Roof Repairs in Calgary

Don't wait for your roof to leak! Regular maintenance and inspection of your roof will protect your home for years to come. You can do a visual inspection to check for loose and broken shingles, look at the flashings, and for any signs of wear or tear. However, the need for roof repair may not be visible from a homeowner's vantage point. Often, they aren't obvious at all. A professional inspection will help you determine whether you need any roof restoration work done. Don't wait for your roof to leak!

MORE THAN MEETS THE EYE
Calgary's Roof Repair Company
A leaky roof that needs emergency repair means significant damage has already occurred. Don't wait and damage more parts of your home.

Hail Damage Roof Recovery the Right Way
In Calgary, we're prone to hail in the summer months which can quickly ruin shingles, damage your roof membrane and impact the vapour seal. When this happens, hail damage repair will be needed immediately to protect your home from any costlier structural renovation. Before it gets to that point, check for signs of cracking or granules missing from the asphalt shingles. With Chinooks come high winds. If a broken tree branch hits your roof on the way down, search for missing or misshapen shingles. To be sure, contact a reliable roofing contractor to check.
When you hire our roofing company, we will take the time to walk you through the options available to you. We also believe in educating the homeowners we work with. We will show you photos of the work that's been done, as well as explain what we're doing. In the end, we make sure every single nail and piece of debris is removed from your property.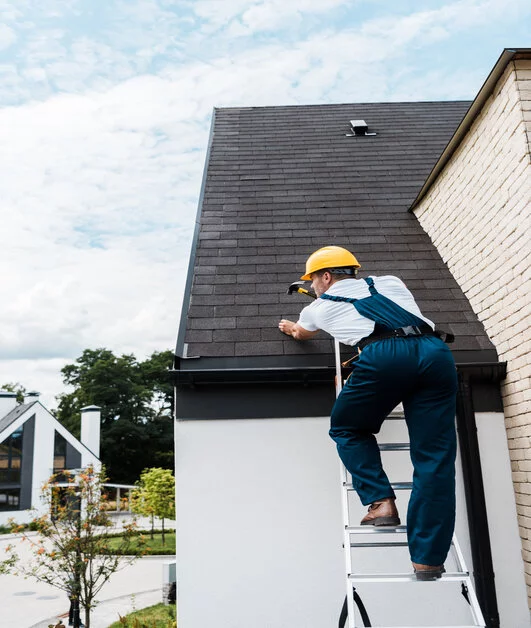 Proper roof inspection & Patching

Professional roof repair and inspection for your homes and buildings in Calgary is available with us at National Star Roofing. Booking a roof leak detection appointment allows us to assess whether you need basic roof shingle repair, do reroof measures, or have a
complete roof replacement
.

Our emergency roof repair services are always available 24/7 for Calgarians whenever they need someone to rely upon

Scheduling your roof for a regular check saves you more in the long run. Don't compromise the safety of your home and your family. Contact us now to schedule your roof inspection.
Request A quote
Our latest testiomonials
Listen to what our customers have to say
Richard W
Calgary Home Owner
My roof was replaced with National Star two months ago. Sokol positively response to all our questions and concerns. When we look at the new roof and particularly comparing with job done on old roof. We'll say National Star team did professional and fantastic job on my roof. My neighbour hired them right after looking at our new roof. We'll highly rcommend National Star.
Michael Derban
Calgary Home Owner
Excellent customer service and work from National Star. They were the only quote we got that met with us in person, spent time with us to talk about options that suit us without up selling, and Sokol checked in through out. We were included in the process to get exactly what we wanted. Service, workmanship and pricing can't be beat.
Polly DeWulf
Calgary Home Owner
Sokol and his team did an excellent job in both communicating the process and anticipated timeline. Great European work ethic demonstrated throughout the job. No surprises!!! Did a great job of cleaning up and putting various pots back in place. Greatly appreciated the pictures. Highly recommended!!!.
Emergency Roof Repairs for Greater Calgary
Calgary's leading Roof Maintenance Company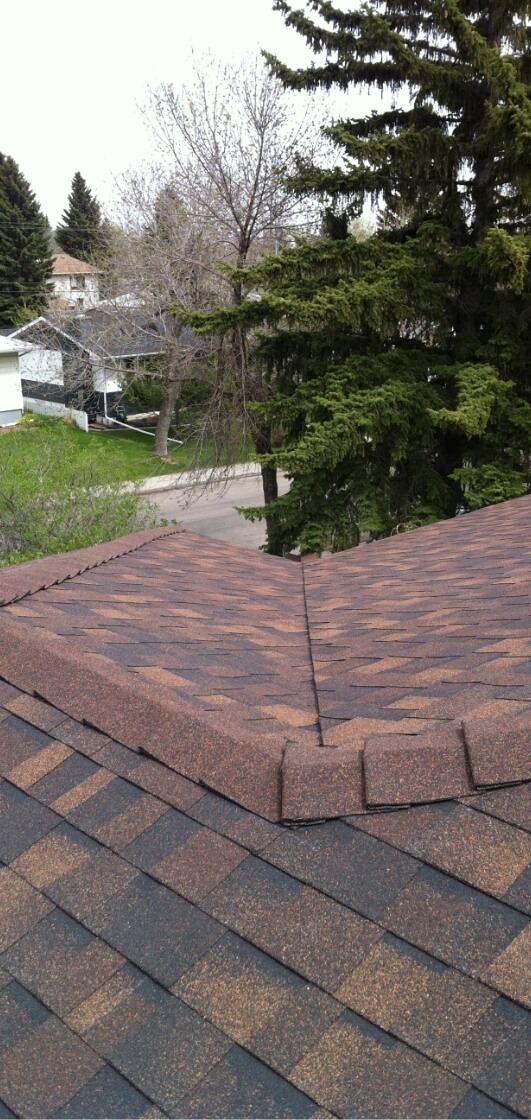 If you are looking for a sign whether it's time to do roof repair, reading this might save the day. Our roof maintenance company has the reputation of offering Calgary's best residential and commercial repair, owing to our 20+ years of experience.
With our services, you can be assured of quality roof restoration service, leak & chimney flashings repairs, and other various patches ,guaranteed to last for years. This is in line with our company's mantra to make you, our customers, a worry-free life. Life is too short for worries, and National Star Roofing Inc will help you with that.
Roof Repair Costs in YYC

Roof repair in Calgary can be costly. It is for this reason that you need to be crucial in selecting which company to pick. Calgary's best roofing company will be there to assist you all the way, notwithstanding our reputable track record. Engaging with us means you will become part of the process. Our team of roof restoration experts will offer a world-class service that's a bang for the buck, and will walk you through the entire repair process.
This includes briefing you on the typical technical process of a typical residential roof repair before undertaking the project. As Calgary's roof repair experts, we adhere to excellent customer service — from planning to execution, and up to making sure every single debris of the reroof service is taken out from your property. This way you can rest with ease while we do our job.
Estimation of repairs

True to our advocacy of making this as simple and transparent as possible, we provide you an honest estimation of the job to be undertaken, whether its flat floor repair, leaky roof repairs, roof shingle repair.

Undertaking The Repair Process

Once everything is agreed upon, including the processing of necessary paperwork, permits, and insurance options, we shall then execute the efficient, time-bounded roof repair. Partnering with us in giving you top-caliber roof are industry leader companies, including the Malarkey Roofing Products and Owens Corning for materials. Our dedicated workers are focused on details, safety, and reliability — a thing that nurtured us all though these years. Our clients give us high 5-star ratings on services, not to mention that National Star Roofing is fully insured and bonded, with all our roofing contractors covered with the WCB.
Flat roofing services
Get a Free Quote now
Our Products &

Partners
Calgary Roofing Services