Since taking on our first project in 2003, we can proudly say we have completed around 8,000 roofing jobs in Calgary. All of our roofing contractors are Haag Engineering Certified for residential and commercial inspections. This gives us the expertise and training to inspect your roof and figure out the best solution for any problems that arise.
Trusted Accreditations: Your Assurance of a Quality Calgary Roofing Company
How we roof in step-by-step format
STEP 1: Roof deck preparation
Before beginning any roofing project, the deck must be prepared for the shingles and system. In the case of re-roofing, or roof repairs, old asphalt shingles and any underlayment are removed and discarded appropriately. The deck then gets a thorough inspection for rotten spots and is repaired using same thickness wood. After that we ensure the deck is smooth, firm and dry before application of the roofing starts.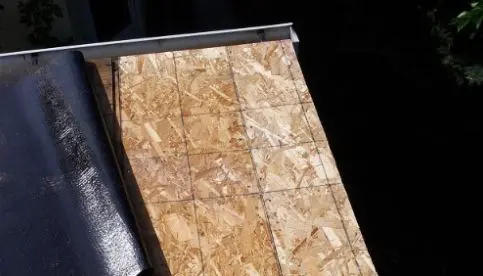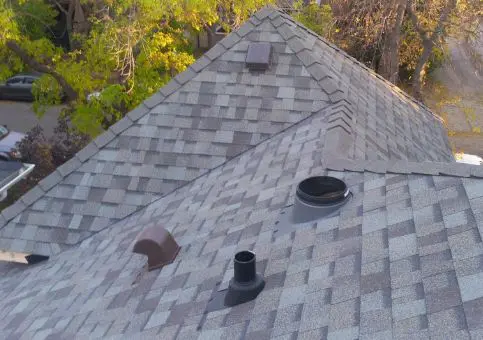 STEP 2: Ventilation
Once the roof deck has been prepared, an inspection is done to make sure it contains enough vent holes. Proper ventilation is important in order to remove the excess attic heat during the summer and excess water vapour during the winter. As with every part of the process, Alberta building code specifications are followed accordingly. We provide and install a range of venting solutions, including goose neck vents, attic vents, phoenix vents, ridge venting and more. For maximum durability and better performance, we recommend Ventilation Maximum air vents.
STEP 3: Ice & water protection
Protecting your home from ice and water damage can save you from costly repairs down the road. For protection against ice and water damning, eaves protection or the ice and water membrane ought to be installed for at least 3′ from the eave. Areas that have severe icing and frequent freeze/thaw cycles, 5′ from the eave or two rows of the membrane are recommended. A layer of the waterproofing membrane is used as underlayment in the valleys before the valley metal installation.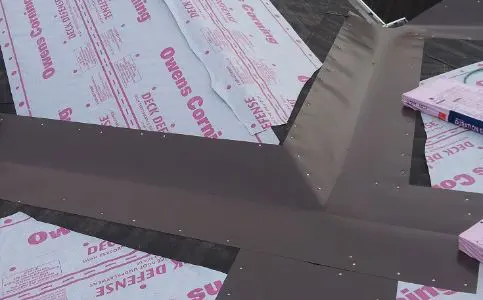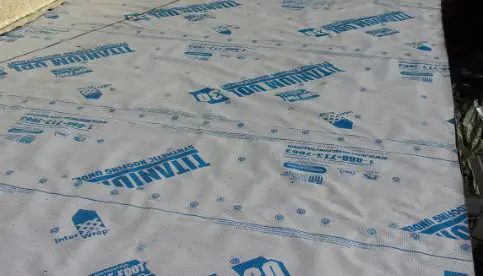 STEP 4: Underlayment
Alberta's building code specifies that for fiberglass shingles below 8/12 slope, 1 ply of an approved underlayment parallel must be applied to the eaves over the portion of roof deck not already covered by an ice and water membrane. Instead of following the minimum guideline, we cover the entire roof with underlayment, except the areas with ice and water membrane. We provide and install a range of synthetic underlayments.
STEP 5: Flashings
Most roofs have joints and breaks such as valleys, dormers, chimneys, vents etc. When replacing a roof, or installing one on a new build, care must be taken to ensure the flashings are waterproof which will help avoid leakage at these danger points. At National Star Roofing Specialists, we use Valley Metal, Chimney and Step Flashing to ensure a leak-free roof.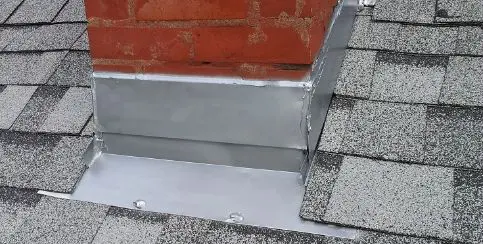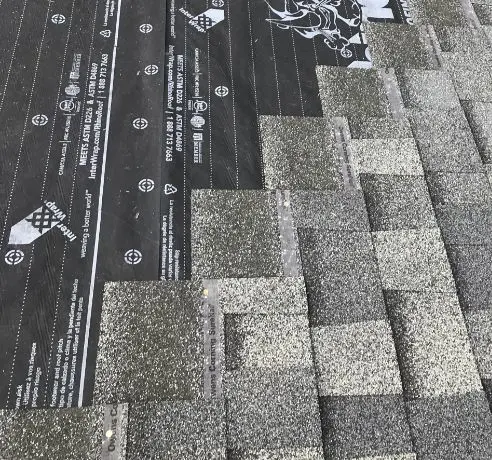 STEP 6: Shingle installation
Out of all the phases of the roofing process, shingle installation is the one that can make or break the end result. Listed below are the specific steps we undertake to ensure the asphalt shingle system we install meets and exceeds the manufacturer's standards.
Even distribution along nailing strip of shingles is done, with a minimum of four nails properly driven. All the nails used are galvanized and corrosion-resistant. Caution must be exercised here to ensure the end joints are no closer than 2″ from fastener in the shingle below, and that side laps are no less than 4″ in succeeding courses. Shingles are precision cut around vents, flashings, valleys and side edges of roof. Extra cement is then applied along the flashings within 3″ of the edge of the shingles.
STEP 7: Ridge cap shingles
The next step is the ridge cap shingles. These are applied beginning at the bottom of the hip, or the ridge, in the opposite direction of the prevailing winds. Four nails are used per ridge cap shingle – two on each side – 1″ from the edge. This allows succeeding shingles to conceal nail heads.
There are two kinds of ridge cap shingles, namely, regular and High Profile Ridge Caps shingles. Regular caps consist of single layer cut-up strip shingles, whereas High Profile Ridge Caps are ready made. High Profile Ridge Caps are also double layered shingles. The double laye ensures multi-layer protection at the highest stress areas of the roof (the hips and ridges). This accentuates the natural beauty of your new asphalt shingle roof, while providing the look of thick wood shakes.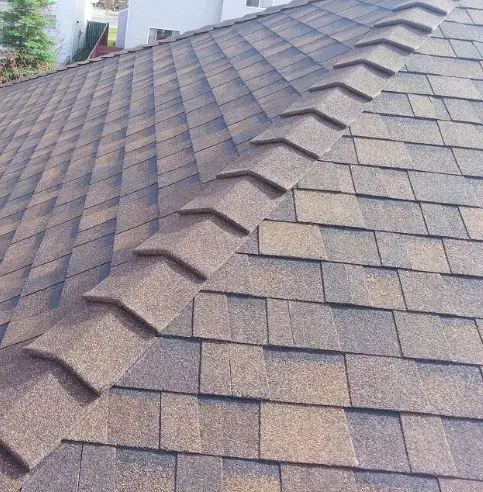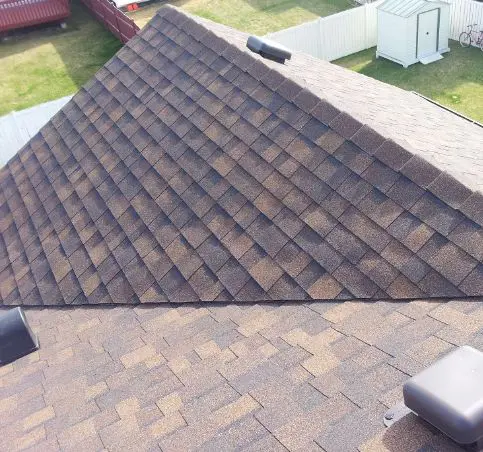 STEP 8: Fastening & cleanup
Now that the ice and water membrane, underlayment, flashings, shingles and ride caps are in place it's time to fasten everything and begin cleanup.
The bottom of vents, chimneys, skylights and wall flashings are not covered by shingles. This is to help prevent ice and water damming. The fasteners (nails and screws) holding them down are cemented with high-grade roofing silicone.
The last important step of a properly installed roof is the cleanup. At National Star Roofing Specialists, we make sure all debris is removed from site, and use a magnetic roller to catch and remove any loose nails and staples.